Delicious cooking & baking recipes by Dr. Colly
It is my pleasure to present you some recipes, which are not only culinary, but also psychedelic a pleasure.

The rule of thumb for all recipes is per serving about 0.2- 0.3 grams of hashish or about 1 gram of fresh marijuana, depending on the quality you have.

In any case, the cannabis must be heated to more than 100 degrees Celsius before ingestion - boiled, baked, or fried, because this is the only way to produce the effective THC. (In the plant THC is present as pharmacologically inactive carboxylic acid, which is converted into the active phenol by splitting off CO2. The fastest way to do this is to heat it to 100-300 degrees Celsius for a few minutes).

Hash cream
Grind hashish together with some sugar in an oil mill, add the finished hash powder to liquid whipped cream and beat until stiff.
Very suitable when there's cake and also THC-abstinent people want to eat from it.

Waffles (for 4 people)
- Dissolve 1-2gr hash in 125gr butter or coconut oil and let cool.
- Stir butter and 125gr sugar until frothy, add 4 eggs one after the other
- stir in 500gr flour with baking powder
- stir in one cup of almond, soy or cow milk
- Bake in waffle iron in portions and add cinnamon or vanilla ice cream to taste.

Hash nougat (for 2 people)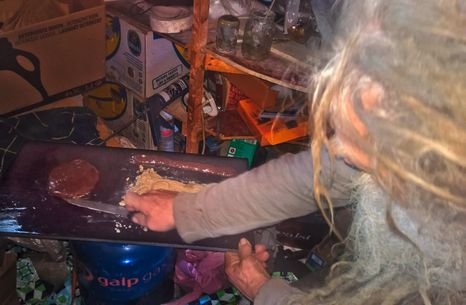 - Thoroughly grind 250g of any nuts in the blender (e.g., almonds, cashews, hazelnuts, walnuts).
- When the nut mass is finely ground, add 2-3 tablespoons of melted coconut fat with one gram of hash and two full spoons of honey.
- Mix the whole thing further in the blender until the oil begins to settle, then remove the mixture from the blender and knead a little in a bag or between baking paper and let it cool.

Popcorn (1 serving)
- Dissolve 0,5gr hash in 2 tablespoons coconut oil
- add corn kernels, add (vanilla) sugar or salt to taste
- Close the lid and while the kernels are popping, shake the pot well from time to time.
- After all the kernels have popped, place the popcorn in a large bowl to cool.

Ginger Kandis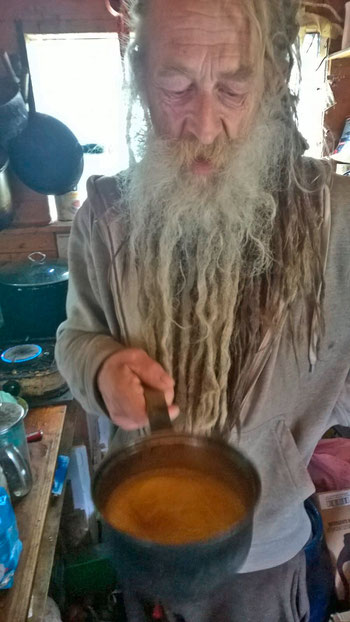 - Soak 10g of marijuana in high-proof alcohol (brandy) for about 24 hours
- Melt 350g of sugar slowly in a pot and caramelize it until it becomes slightly brownish.
- Add some cinnamon (important!) and clove to the sugar and then add the brandy
- Flambé the alcohol (be careful when lighting it!)
- add 100g of freshly grated ginger
- Simmer on low heat until the remaining alcohol has evaporated, and it becomes a caramel mass again
- Spread it on a stone plate or silicone mat and let it cool down

Komakaba
- Dissolve 0.2g of hash with a tablespoonful of butter in a saucepan.
- bring to a boil with 1/4 l milk
- add the following ingredients: cocoa (preferably real, not Kaba) nutmeg, small pinch of black pepper, vanilla, cardamom and cinnamon
- if you like you can sweeten it with maple syrup, honey or brown sugar

Cannabis Candy Citroen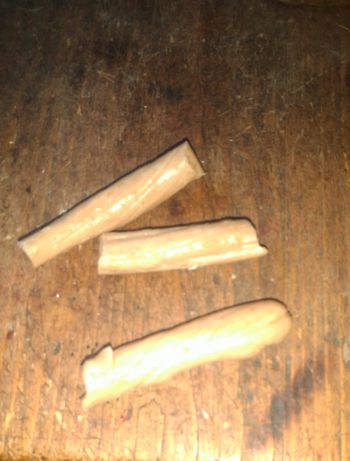 - put 200g of sugar, half a cup of water, 2 tablespoons of coconut fat, zest and juice of half a lemon and one to two grams of hashish in a pot
- heat in the pot until the sugar mass is about 150 degrees Celsius hot
- then pour the sugar mass onto a cold stone plate (be careful with hot sugar, wear gloves if necessary)
- while cooling down, fold the sugar mass with a spatula or a big knife from the edge to the inside again and again
- as soon as the candy mass has cooled down a bit, you can knead the mass and pull it into length and form candies out of it

Cheesecake recipe
- For the shortcrust pastry floor I take: 250g flour, 125g butter or coconut fat or margarine and 75g raw cane sugar, with egg or without, as you like.
First melt the hash or marijuana in a saucepan with the butter. I calculate a quarter of a gram per portion - for 12 pieces this would be 3g of hash.
It is important to let the butter cool down completely and harden again, otherwise the shortcrust won't work properly. Put this shortcrust pastry into a springform pan and press the bottom and a small side edge.
- For the cheese mass I take: 500g quark, 100g sugar, 5 eggs 100g flour, 1 packet baking powder, grated zest of a lemon, vanilla and a pinch of salt.
First, separate the yolks from the whites and thoroughly mix the yolks with the sugar until you get a white cream. Mix the curd, flour, spices, lemon zest and baking powder with this cream. Beat the five egg whites until foamy and gently fold into the mixture.
I then place sliced mango on the prepared base in the springform pan. Then I put about half of the curd dough in the springform pan, the rest of the curd mass I then mix with real raw cocoa and some sugar. Similar to marble cake, the dark curd mixture is carefully poured into the springform pan so that both colors mix as little as possible.
Bake the cheesecake at 180 degrees in a preheated oven for 50 minutes, then let it cool slowly. I prefer to eat it lukewarm with whipped cream :)

Cannabucha recipe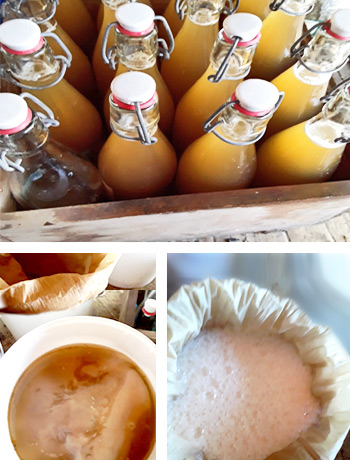 Ingredients:
- 8.5 liters of water
- 1kg raw cane sugar
- 30gr dry cannabis leaves and flowers or
- 100gr to 120gr fresh leaves
Leaf remnants from trimming, liquid and plant remnants from ice-o-lator making, CBD weed, hemp tea or even fully potent flower material containing THC can be used - according to personal preference.
Tea blends can also be used depending on your needs and tastes. Green jasmine tea is particularly suitable, but it must be prepared separately because it becomes bitter when boiled.
Ingredients for Scooby (Kombucha mushroom) + starter liquid:
- 10-liter bucket food grade
- 10-liter cooking pot
Preparation:
Bring the water to a boil, add the cannabis leaves and sugar and boil for about 10 minutes, then drain through a sieve or cloth and let cool. Either mix with extra boiled green tea or continue to use straight.
Once cooled, add the starter liquid and place the Scooby on top of the liquid.
The bucket should now stand unmoved for five to seven days in a well-tempered place, ideally 20 to 22 degrees Celsius and no direct sunlight.
Do not smoke during the preparation in any case! Cover the bucket with a cloth so that the contents are protected and yet well ventilated.
Bottle fermentation:
Already after the bucket fermentation the Cannabucha is well drinkable in 5 to 7 days and tastes very tasty, but still contains relatively high sugar.
I prefer it post-fermented in the bottle. This process can take a week to 6 months, but you need absolutely pressure-resistant and tight bottles without pressure equalization.
After the said five to seven days of bucket fermentation, I remove the kombucha mushroom from the liquid and then sieve the Cannabucha once and fill it into absolutely tight bottles. I prefer to store these for weeks, the longer the Cannabucha sits in the bottle the tastier it becomes. I once had an absolutely fantastic champagne flavored Cannabucha after 6 months :)
Good luck!

Recipe for curd casserole
- Separate 5 eggs and mix the yolks with 100g of sugar until the mixture is a white foamy cream. Add 750g of cottage cheese, 50g of flour, a pinch of vanilla and the grated zest of a lemon.
- Mix everything well and then gently fold in the stiffly beaten egg whites, then put a quarter of the quark mixture in an extra bowl and add another 100g of flour.
- Grease and flour a baking pan and then pour this thicker curd mixture into the pan as a base and spread it evenly. Spread some fruit on top and then spread the rest of the curd mixture on top.
- Bake in a preheated oven at 180° for about 50 minutes.

Recipe for mayonnaise
- Mix one egg with two to three tablespoons of mustard with a blender and then slowly add a third of a liter of sunflower oil, stirring vigorously.
- When the mixture is thick and creamy, you can add lemon, salt, garlic or other herbs to taste.

Harzipan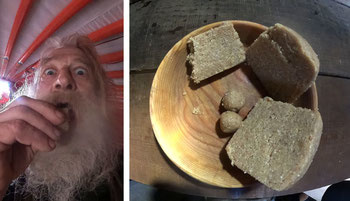 - 200 grams of almonds finely grind and mix with 180g of powdered sugar.
- mix in coconut butter or oil prepared with hash or weed
- mix with a few drops of water and rose water until a kneadable smooth mass is obtained